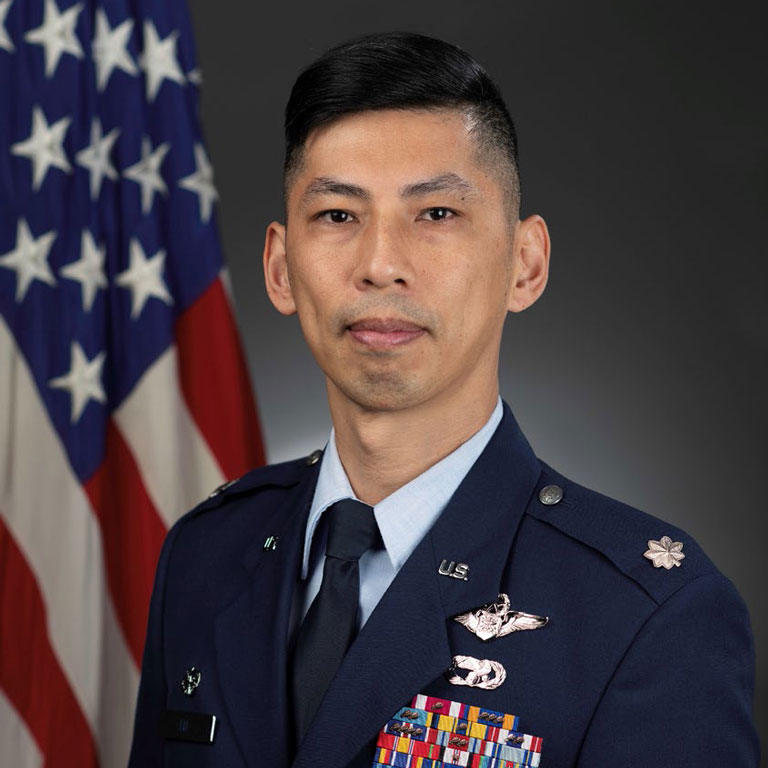 Email:

hl109@iu.edu
Campus:

IU Bloomington
AFROTC Detachment 215
814 E. Third Street

Bloomington,
IN

47405
Lt Col Hsiao-Wei "2Fast" Lu is the commander, Air Force Reserve Officer Training Corps (AFROTC), Detachment 215 and Professor of Aerospace Studies at Indiana University. He is responsible for recruiting, educating, and overseeing the preparation of officer candidates through a comprehensive commissioning program. He also coordinates with state, local, civic, educational, and other community leaders to generate awareness for Air Force recruiting opportunities as well as being a volunteer for the Aviation Inspiration Mentorship Program.
Lt Col Lu enlisted in the Air Force on May 2003, and completed basic military training at Lackland Air Force Base, Texas. Upon completion, he attended vehicle operations technical training at Fort Leonard Wood, Missouri. He was then assigned to the 940th Logistics Readiness Squadron at Beale Air Force Base, California.
Lt Col Lu received his commission from AFROTC, Detachment 88 at California State University Sacramento in 2006. He is a graduate of the U.S. Air Force Weapons School and is an Evaluator Electronic Warfare Officer with over 2,700 flying hours in the RC-135 V/W Rivet Joint. He has deployed in support of operations RESOLUTE SUPPORT, IRAQI FREEDOM, FREEDOM SENTINEL, ENDURING FREEDOM, INHERENT RESOLVE, totaling 100 combat sorties and over 1,100 combat hour as well as flying Sensitive Reconnaissance Operations around the world.